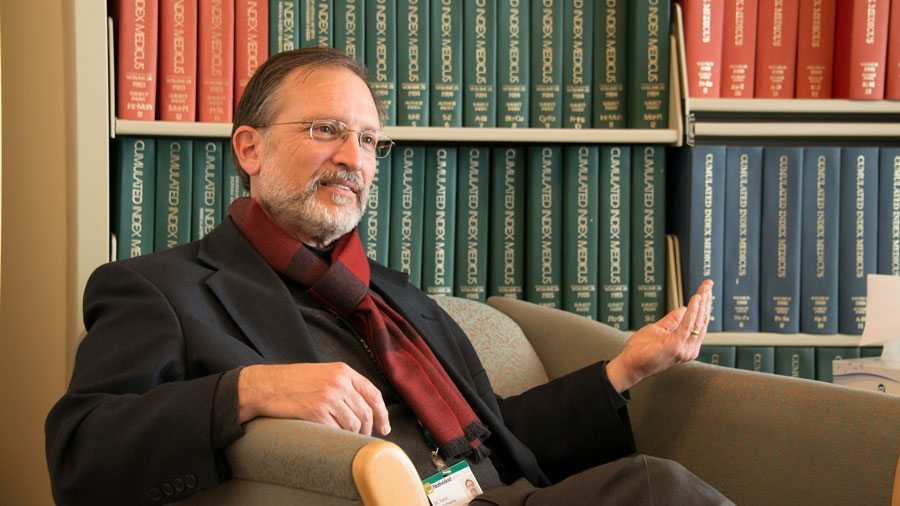 After 20 years at Natividad Medical Center, Dr. Marc Tunzi has gone to many funerals, had many conversations, and continues to help his patients answer the question, "What is a good death for you?". A smart kid of Swiss- Italian parents, born at SVMH and raised in Spreckels, he describes going to med school as a series of "happy accidents." Since science came easily to him, medical school seemed a natural fit. Dr. Tunzi trained at UC San Diego, which is most notably a research medical center. There he met his wife, Danielle, also a physician. Both Marc and Danielle however were drawn to what he calls "real medicine." He sought out mentors interested in family medicine as well as leaders in the field of medical ethics. He and Danielle did their residency in Fresno, then made their way to Montana to an Indian Health clinic, and worked in an Idaho-based community migrant clinic, before returning to Salinas.
"Dr. Tunzi deeply values patient relationships, and caring for the person, not just treating the illness."
Community healthcare has defined his practice. As a family doctor, Dr. Tunzi deeply values patient relationships, and caring for the person, not just treating the illness. Palliative care naturally complimented his practice model. Commonly accepted goals of medicine are curing illness, disease prevention, wellness, and prolonging life. But Dr. Tunzi remarks, "sometimes these goals conflict. You're still living when you are dying; dying is still part of living." He works with his patients asking them, "what is the best way to take care of you?". Making big decisions together is part of the family's culture. Respecting those traditions, he'll often suggest to patients that the last big way they can take care of their family is to plan for what they want.
He recalls a case when he was in his second year of residency when he showed up at a patient's funeral. The family was moved by his presence, but that experience stayed with Dr. Tunzi too. It's rarely just the patient he cares for. It's the family and loved ones who have to understand, think about what's next, and say goodbye.
Dr. Tunzi believes our best teachers are our parents and grandparents. He'd love to see a broad campaign to get grandparents to talk about their plans, knowing the younger generation would learn from their wisdom. He hopes Hospice Giving Foundation can help make talking about end-of-life more normal so people aren't so afraid. As a dedicated community physician, he also wants more services available to safety-net communities.
As a boy, he'd go to church with his mom. Often, they'd come home to hear his dad's music filling the house. One of his favorite songs translated from Italian is "Everybody wants to go to heaven, nobody wants to die." Dr. Marc Tunzi is there for his patients to help them live a dignified, respectful, life that includes a good death.