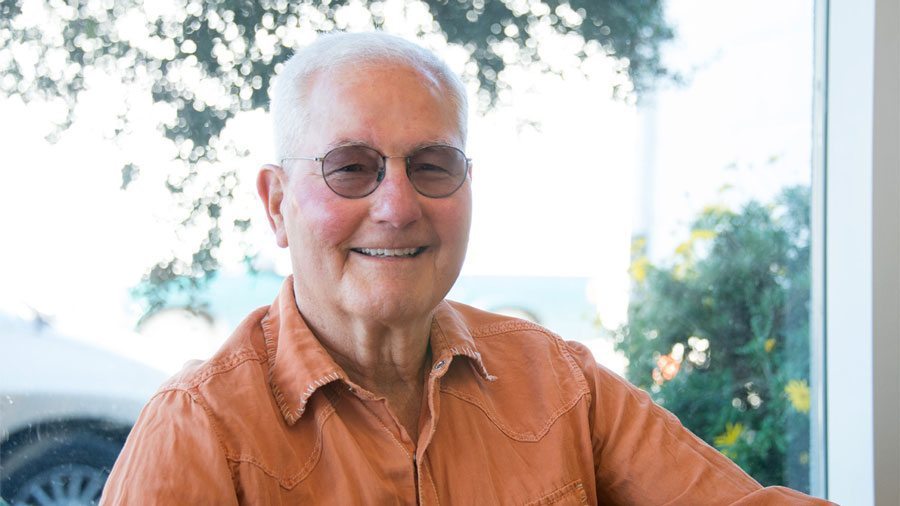 By the traditional measures of generosity, Brian Kelly, our founding board chair and one of our strongest supporters, is generous indeed.
Brian could hardly be more generous with both his time and his financial support. Still, he offers more: he has a rare gift for bringing comfort to others, as we found when we sat down with him recently. When Brian talks about the end of life and the importance of compassionate care, he draws on deep insights gained from his own suffering.
Brian was on the Hospice (Giving) Foundation board for almost 20 years. He began when our ancestor organization was a small 6-bed hospice provider in Carmel Valley. He remained involved through the capital campaign to build what is now Westland House. Then he was pivotal in the negotiations to sell the asset and program to Community Hospital, so that the Foundation could be formed to serve a broader purpose.
Brian has long been a trained hospice counselor. At the age of 85, he is still giving council and solace to people facing the end of life.
In 1979, Brian and Toni Kelly learned that Toni had renal cell carcinoma, a disease that only rarely occurs in women, and one with an extremely low survival rate.
"How do you respond? How do you do it?" how do you go on? Brian remembers asking himself those questions over and over.
The first thing Brian did was to devote himself to being Toni's advocate.
"I said, 'What would you like me to do for you? You're the one going through this.' "She said, 'You go out and find all the options. You be my cheerleader.' So that became my role."
Doctors had given Toni two months to live. Brian explored every option to save, or at least extend, her life — although some, they rejected.
"Once we learned what the odds were, we agreed that we didn't want chemotherapy. We didn't want to drag the kids through this, with only five percent chance of survival. It would have been really very difficult on them. Difficult enough as it was. So you make these choices as you go along."
Still, "she was able to survive from that point, not two months, but seven, maybe eight months."
In part, Brian credits it to friends and neighbors, especially those who knew how to offer the kind of support Toni needed. He fondly remembers a woman who died recently at the age of 97, who would come and sit with Toni, and sometimes pray and sing to her.
"She brought a warmth and a love, and it became so apparent that she came to give it away. She came to be with you, and to reach in and be where you are. And that's what I learned as well. How to come and be where she is, not my demanding her to come and be where I am."
Brian learned to screen his wife's visitors, watching for "the difference between someone who took energy and someone who gave." He would fend off the former and welcome the latter.
He also had to face his own fear of losing her, to prevent it being a barrier to helping her.
"You see your wife dying slowly, and part of you… psychologically, you're trying to protect yourself. But yet, you're trying to provide her all of her needs and to sacrifice what's going on within yourself."
Brian found that Toni herself became his teacher in how to face the prospect of life ending.
"As the disease progressed, I would have to change. I noticed that she was in a different place, maybe multiple times during the day. And it required me to get to where she was, her space, asking the right questions, being totally observant. She really taught me how to get there.
"It was incredibly powerful… for me to walk alongside this lovely lady in her journey, and supporting her, and encouraging her, and watching her progress, her spiritual progress."
Even as they struggled for her life, Toni and Brian found strength in acceptance of whatever came tomorrow.
What came brought much suffering. But it also led to what Brian now calls grace.
He describes it in terms of their shared Catholic faith, although he emphasizes that he believes grace is there for people of all faiths — or no faith.
"'When I become weak and I allow God's grace to come in, I become strong,' he says, quoting St. Paul. "If we are open to the grace, it can come in many different ways."
We all have within us a spirituality. We have to access it. Who are we? What is it all about?"
What it's about, Brian concluded, is giving and loving.
"The pivotal thing, which [had] totally changed my life, was… learning to give away what I had for the need of someone else.
"In a sense, part of this journey was waking up."
For 20 years, Brian had lived with a woman he deeply loved, and now she was gone. And yet, though his suffering was terrible, he now feels that it also brought him a gift.
Through taking care of Toni "I had experienced sacrificial love, which is real love, in a sense."
He had discovered the purpose that has driven his life ever since. In 1983, at the age of 51, he retired from a successful career with Granite Construction.
"I loved what I did with Granite. But there was such a draw to… you need to get out and give away what you've learned through this journey, which is basically love, helping others in their particular journey.
It was another lesson from Toni.
"If she survived this, she wanted to go help people who were going through what she was going through… and I realized wow, I've been trained to do what she wanted to do."
Often, he works with his second wife, Marsha, whom he married in 1982. Like Brian, Marsha has long been active in serving the community, and shares his commitment to our Foundation.
Always, Brian says, they both find that they get back more than they give.
The question, he says, is, "Where do I get my happiness?" Many people expect happiness to be given to them, by a good marriage, success, entertainment, or drink or drugs — all while avoiding suffering. "The culture [is] kind of pulling this way which is, "Okay, we don't have to worry about death. That's way down the road."
But Brian found happiness by living and experiencing a purposeful and meaningful life.